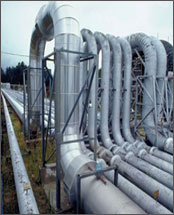 KBC International (India) has been a professionally managed stockiest and supplier of ferrous and non-ferrous metals. We are capable of providing a vast range of materials, from stock, to suit your needs. From highly specialized non-standard material to off the shelf items, from production to prototype, from low minimums to mill runs, KBC International (India) has the experience to solve your most difficult requirements. With our focus on Superior Customer Service, Premium Quality and Quick Turnaround we are sure you will agree that
KBC International (India) is your best source for metal.
Having established ourselves and set up in the heart of India's commercial center Mumbai, we have built up adequate stock levels of all essential items within our scope of supply and are in position to offer immediate deliveries. We have been participating in major infrastructure and industrial government and private projects of India . We are a client focused and service oriented group. The foundations of our business heritage continue to be based on quality, reputation, customer service and performance. The highest emphasis is placed on human resources and deployment of the latest in information technology.
Our vision is to be the premier supplier of metals solutions around the world, revolutionizing the supply chains of the industries we serve.
We request you to give us an opportunity to serve your esteemed organization by including us in your vendors list. We do understand that you will be having your respective vendors who will be there for all your needs. All we request you is to give us an opportunity to be a part among your preferred vendors.
What's in name, Rose will smell as well as now with another name…Its all about characteristics…
OUR VALUES:
Some of the unique values of KBC International (India)' complete combination for Ferrous and Non-Ferrous Metal products: The customer is at the center of everything we do. Complete customer satisfaction - in terms of products, services and punctuality - is our base-line.
Integrity First... In thought and deed.
Location may vary But Quality can't.
Safety. In all we do, at all times.
Competitive pricing - You might be asking yourself "If KBC International (India) is able to provide such a complete combination of values along with highest quality Metal products, how can they also offer competitive prices?" The answer is, we are fortunate to have a large number of long-time customers whose volume allows us to purchase our raw material direct from the mills. This direct volume buying gives us the highest quality raw material at the lowest possible price - quality and cost savings we pass on to our customers.